What it can mean for you and your investment!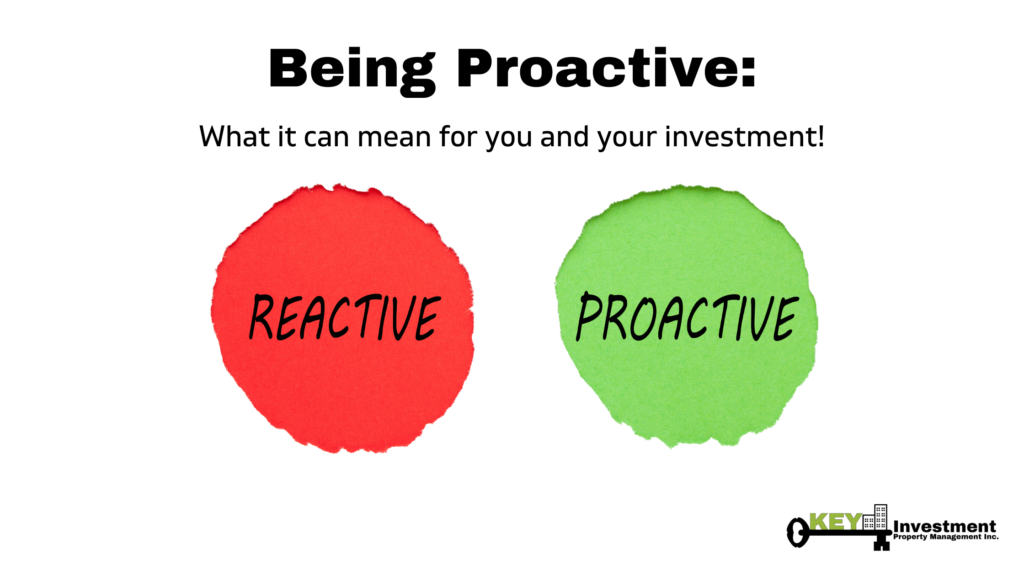 What is the trick that we stand by when it comes to protecting our clients investments and properties? The proactive management of maintenance and the anticipation of future problems. By having a keen eye that is open to the upcoming needs of a property and keeping up with the minor repairs to ensure the integrity of the building, you can save yourself tens of thousands of dollars down the road. Being proactive does not just apply to the maintenance of your home though, here are some things to think about in your landlord journey.
1. Maintenance
It goes without saying that ensure the regular upkeep of your rental property is extremely important, especially as it pertains to the structure and function of your property. Things like roofing, grading against the foundation, proper ventilation and insulation are all very important. The regular upkeep of minor leaks, old plumbing fixtures, and even weather stripping can save you big! Also keep into account the gradual break down of things such as appliances and even larger scale upgrades needed such as flooring and painting to maintain the quality and equity of your property.
2. Books and Files
Maintaining proper financial reports, records of accounts, bill payments and books can save you loads of money at the accountants down the line. Remember, as a landlord, you are technically making self-employed income that can be audited, and having accurate and up to date books is an important step in protecting yourself and saving you much headache in the future. Being proactive in anticipating these things rather than reactive can save you time and stress!
3. Tenant Management
We hate to be the bearer of bad news, but no matter how diligent your tenant screening may be, there are still the odd times that landlords find themselves in the difficult situation with a tenant. Anticipating future difficulties and creating contingency plans and financial savings for such times is the prudent thing to do for landlords. By anticipating the harder realities of being a landlord, it makes the difficult times more bearable.
4. Vacancies
As a landlord, it is prudent to budget for vacancy time between tenants. While some rental markets at hot and you can without a doubt find tenants right off the bat, markets can fluctuate and your home may not be occupied 100% of the time. Anticipating such times can mean the difference between your success as a landlord and the loss of your investment. You should at minimum, maintain a budget of one month vacancy per year, per unit. While this may not be needed, it is important.
Feeling overwhelmed? Let us help! Inquire into our services here and let us help you stay on top of your rental property needs!