When do I Know it's Time to Hire a Property Manager?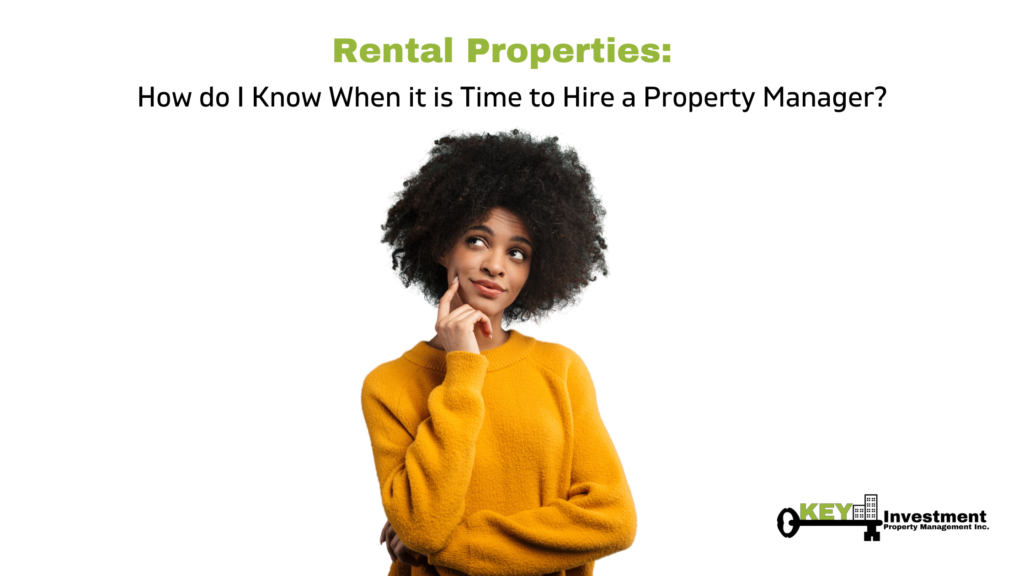 Many landlords struggle with knowing when is the right time to hire a property manager. Some continue to manage the day-to-day needs of their rentals, while others prefer to hand over the operations of their rental property to a manager right away. How do YOU know when hiring a property manager is right? Here are some things to consider.
Affordability
Standard pricing for property management is 10% of rental income. You need to be sure that the profit margins on your rental unit are such that they can manage that. Sometimes the benefits of a property manager are outweighed by the cost. For example, regular scheduled inspections to ensure that your property is being well maintained and looked after can save you money on repairs at the end of a lease. Consider also the time spent in tenant screening, bookkeeping, financial collections, bill payments, vendor management, regular maintenance, and 24/7 emergency on call services. Add to that the value of a reference check, as well as a collections escalation process for less than ideal circumstance, many landlords opt for a property manager right off the bat.
Time
You may not think it, but rentals can be very time consuming. On top of the aforementioned responsibilities, landlords can be bombarded with requests. Simple requests for upgrades, minor repairs, frustrations, and rental grace may become a regular discussion. Many landlords find that having the degree of removal that a property manger provides not only saves them time but it also provides them the anonymity that they would like to go about their lives.
Proximity
If you own a rental in another region than yourself, or you are gone for a significant amount of time during the year, you may find that a property management firm is your best bet. Your property manager will be your local "feet on the ground" for your rental property. Our 24/7 emergency on call service, allows us to attend emergent situations that may be time sensitive. This can save you money as well as frustration when situations arise that need immediate maintenance attention.
You Have More Properties Than You Can Handle
Rental management can be a time consuming matter, especially when you are managing multiple units. Furthermore, the more units you handle the more organization, files, agreements, and tasks you are left juggling. Sometimes it can be difficult to juggle all of the proverbial balls of being a landlord!
If you are a landlord in need of assistance with your properties, contact us today to discuss whether our services are right for you! Call 780-833-5555 or email [email protected].