Tips From a Property Manager: Part 1
Don't Wait Until the Last Minute to Request Your Condominium Documents!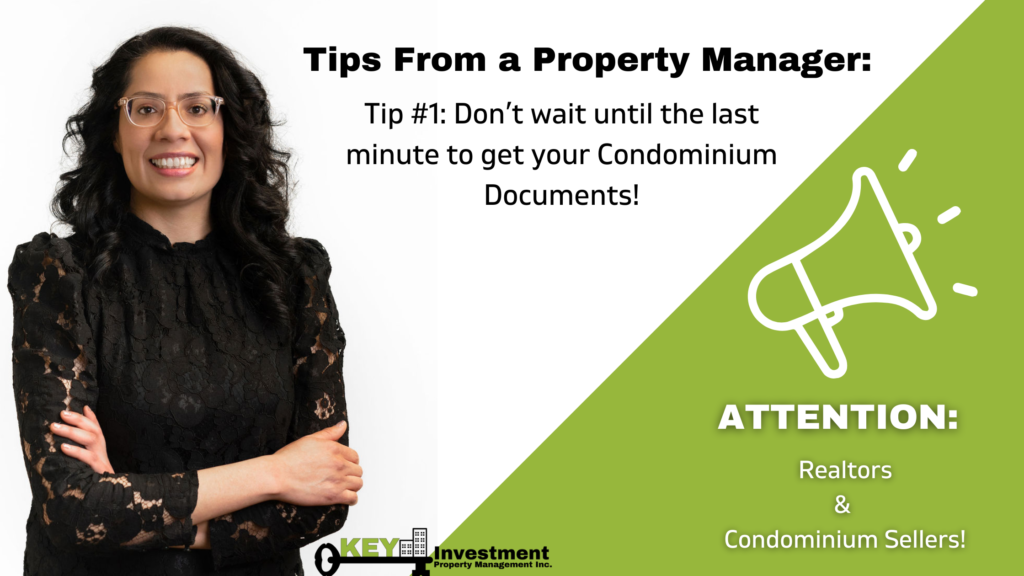 When you are purchasing a condominium, you are also purchasing a share in a corporation. As such, it is best to look at your purchase as and investment and business decision. As with any business decision, it is important to have all of the facts. You will want to know the finances, condition of the home, whether there are upcoming expenses, and where the corporation stands legally. Furthermore, you will need a good understanding of your responsibilities as a unit owner and what you are free to do and not free to do in your home. These things, and more, are found in your condominium documents.
As a property management brokerage, Key Investment Property Management Inc. wants your home purchase to be as seamless as possible. It is important to note, that there are some condominium documents that not everyone can access. Most times, it will be the sellers agents that will acquire these documents, but the buyers agents can as well. As such such, these are things to discuss with the agent that you are working with as soon as you begin your selling or buying process.
If you are a Real Estate Agent, Mortgagee, or Solicitor, here are a few things that you will need to know:
Don't wait till 2 days before closing to order your condominium documents. You can obtain them at any time and even start gathering some of them at the time of listing the property. Take the time to speak to your client about the items that may be needed for a sale. If you require documents on an urgent basis, you will be subject to rush fees.
Communicate regularly with the unit Owner about new events that may transpire while the listing us active, such as notices of special resolution (vote) or notice of new budget being passed.
It can take UP to 10 days to receive condominium documents upon giving written request to a corporation. That is the time frame legislated by law.
Most condominium documents and financials are not public records. Remember to identify who you are and keep in mind that the owner of the unit will have to grant permission for documents to be provided. This is also a legislated by law.
You can obtain a few documents directly from Land Titles. Some of the documents you can find on Service Alberta are Bylaws, Restrictive Covenants, Standard Insurable Unit Description, CADs, and Condominium Plans.
Keep in mind that some documents are extremely time sensitive. For example, meeting minutes may change monthly. Financial statements and budgets may change depending on year end – pay close attention to dates.
Closing on the 1st day of the month may mean that it is not possible to confirm condominium fee receipt as that is the day they are being invoiced and processed. Consider how the closing day falls and its relation to condominium fee assessments due dates.
The Condominium Property Act and Regulation outline the documents that may be requested. Be sure to review these sections in comparison to your purchase agreement. Sellers should know what is required for their transaction as the Corporation is not involved in the purchase agreement.
Condominium documents are subject to fees, and this is also legislated.
The team at Key Investment Property Management Inc. would love to work with you on obtaining your necessary condominium documents. Often times, there is a process that we need to go through to ensure that the documents that you are receiving are complete and up to date and this does tend to take some time. For the sake of your transaction and to save on frustration, it is best to get on this process as soon as possible. As with everything, the documents necessary vary per deal and condominium so be sure to look at your purchasing agreement to ensure that you have all that you need before proceeding with a transaction.
Are you or your client new to condominium ownership? Be sure to check out this and many other blogs that we have made available.